Mallory Gilbert Leadership Award
The Mallory Gilbert Leadership Award annually celebrates and recognizes an individual who has demonstrated outstanding administrative or managerial leadership within the Canadian theatre community. The award also includes a protégé, chosen by the Award winner, underlining the importance of skills and knowledge transmission in leadership building.
Winners are chosen based on the following criteria:
Displaying consistent, significant and valuable administrative leadership
Being respected by peers for leading, growing, or changing an organization or initiative
Being recognized for positive contributions to the development of Canadian theatre, such as community involvement, mentorship, innovation, or advocacy
Exhibiting commitment to inspiring and generating passion in others
Background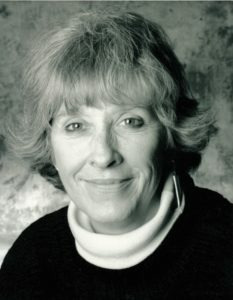 The Mallory Gilbert Leadership Award was initiated in celebration of PACT's 30th anniversary in 2006-2007 and was named in honour of Mallory Gilbert.
Ms. Gilbert was one of Canada's most respected arts managers. She was Tarragon Theatre's General Manager for 34 years, and was also one of the founders of PACT.
Ms. Gilbert served on PACT's Board for 20 years (as President from 1989 to 1993), and was the recipient of a PACT Honourary Life Membership in 2005. By mentoring countless aspiring arts administrators, she shaped the careers of many of Canada's theatre leaders and encouraged the creation of exciting new theatre ventures.
Ms. Gilbert passed away in 2019. She is dearly missed by Tarragon Theatre, PACT, and the Canadian theatre community.
Selection Process
The Mallory Gilbert Leadership Award Selection Panel is composed of a combination of PACT Honourary Life Members, respected leaders of Canada's national theatre community and past recipients of the Mallory Gilbert Leadership Award.
The Selection Panel reviews all nominations and selects one winner, judging nominations against the eligibility requirements (see nomination form for full eligibility requirements). At its discretion, the Selection Panel may choose to grant no award or multiple awards in one year. All Selection Panel deliberations are strictly confidential.
The selection panel is comprised of the President, Vice-president, and Treasurer of PACT, as well as, the previous year's award recipient and another member of the PACT board.
Support for the Mallory Gilbert Leadership Award
We gratefully acknowledge previous support for the Mallory Gilbert Leadership Award from Tarragon Theatre, who sponsored the award for the first five years, and the Metcalf Foundation, who supported the award from 2012 to 2015.
Please consider supporting the Mallory Gilbert Leadership Award by visiting our donations page.
For more information, including how to nominate someone or eligibility criteria for the award and selection jury, contact Panthea Vatandoost.
Past winners of the Mallory Gilbert Leadership Award
2022 - Hugh Neilson and protégé Celina Hawkins
2021 - Lori Marchand and protégé Cheyenne Scott
2019 - Camilla Holland and protégé Evan Klassen
2018 - Gaylene Buckle and protégé Natasha Butt
2017 - Michele Decottignies and protégé Olivia Marie Golosky
2016 - Nancy Webster and protégé Katie Pounder
2015 - Ivan Habel and protégés Nadine Carew and Natalie Ackers
2014 - Yvette Nolan and protégé Kristen Holfeuer
2013 - David Abel and protégé Rebecca Singh
2012 - Chuck Childs and protégé Adèle Benoit
2011 - Philip Akin and protégé Mumbi Tindyebwa Otu
2010 - Naomi Campbell and protégé Donna-Michelle St. Bernard
2009 - Heather Redfern and protégé Kris Nelson
2008 - Cherry Karpyshin and protégé Madonna Van Vonderen
2007 - Jenny Munday and protégé Natasha MacLellan
Nominations are now closed. A winner will be announced on June 2023.